News:
Peace4Tarpon presents a FREE screening of
"HEALING VOICES"
Understanding Your First Responders Trauma and Stress Workshop
Peace4Tarpon was proud to sponsor the CODE 9 Project S.H.A.R.E. "Understanding Your First Responders Trauma and Stress Workshop" on May 20th at St. Petersburg College – Tarpon Springs Campus.    The workshop focused on helping the family members of first responders better understand trauma and stress patterns and the impact on the first responders and the family, address fear, anxiety, changing behavioral patterns, and provided support and self-help tools.
Co-founders of the Code 9 Project, Facilitators Deborah Ortiz and Lee Baker, presented the information in a caring and straightforward manner that the participants were able to connect with.  "The workshop was "real", informative, and provided me with tools to help my family," stated one participant.   Schnike!   It was great!
For more information on the CODE 9 Project, visit www.code9project.org.
************************************************************************************P4T Resilient Community Mini-Grants Awarded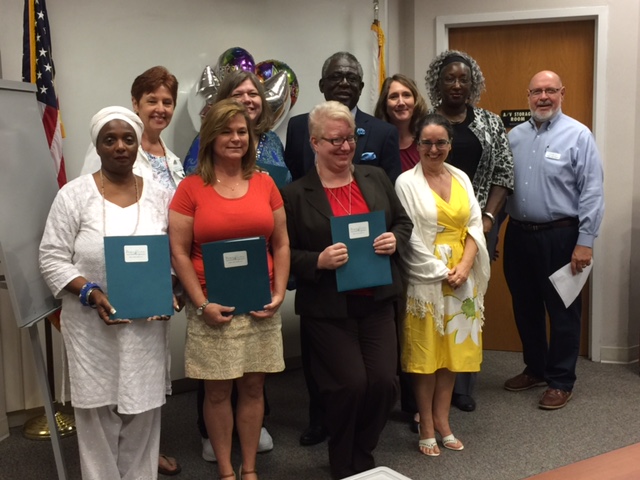 (Phyllis King-Robert, Chris Warwick, Kellymarie Archibald, Jill Trumbell, Trisha Bryant, David Archie, Therese Christopher, Mariflor Cremonie, Anita Smith, and Carl vom Eigen.   Jacki Malone – USFSP is absent from the picture, but was also a recipient.)
Peace4Tarpon is pleased to announce the recipients of the our first Resilient Community Grants.   Grants were awarded to individuals, groups, and organization projects and/or programs that promote family and community resilience within a defined Tarpon Springs area: between U.S. 19/Alternate 19 and Klosterman Road/Anclote River.  All grants focused on either:  People, Place, and/or Equitable Opportunity.  Grant projects and recipients are:
Calm Spot – Head Start
Circle of Security Experiential Parent Group – USFSP Family Study Center
Earth Day 2017 – TS Community Gardens
Teaching  Students Emotional Strengths – Tarpon Springs Elementary School 
Kundalini Yoga – Phyllis King-Robert
Parent Engagement and Family Involvement – R'Club Child Care
Youth Summit – Citizens Alliance for Progress
Youth Employment Program – Boley Centers, Inc.
TS Community Garden – Rotaract Club of Tarpon Springs -SPC Chapter
Congratulations!!
**********************************************************************************
Look what is new around town!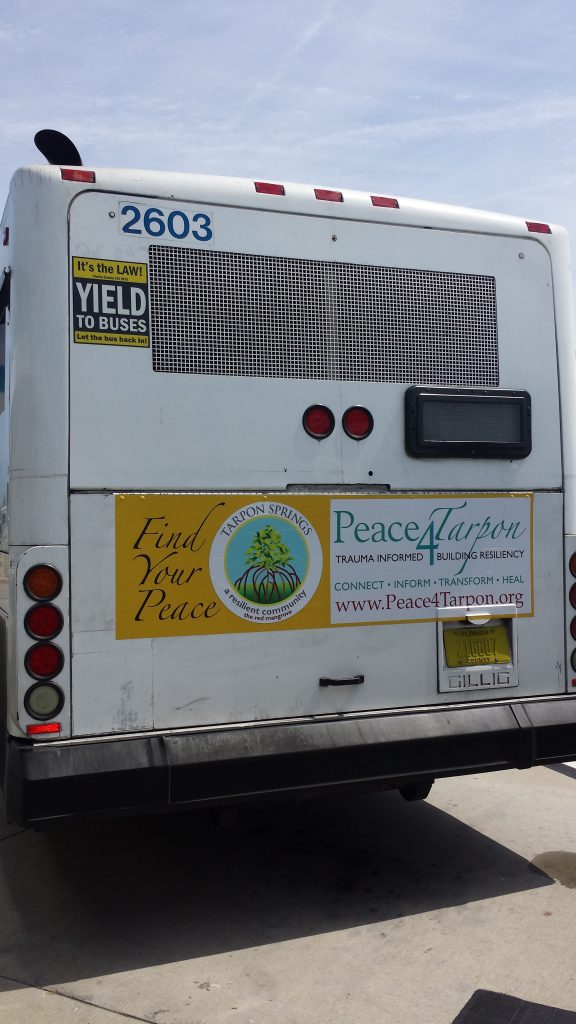 **********************************************************************************
Events:
Peace4Tarpon Community Forum – NO JULY MEETING.    
                        Next meeting is August 25th,  9:00 am – 10:30 am,

Tarpon Springs City Hall,  

324 East Pine Street, Tarpon Springs
Head Start Accepting Enrollment Applications
Hispanic Outreach Annual Diversity Conference:  Embracing Our Changing Community: Cultivating Civility – July 28
DID Discovering Hope – Creating Resilience Conference, October 7
              For more information, click here: DID Discovering Hope Conference
Visit our Facebook page to see all current events, and "like" us to connect with our news feed.
If you would like to be added to our mailing list, please email [email protected]
Together as a community, we are stronger!